Jared Padalecki (Sam from Supernatural) VS. Justin Bieber?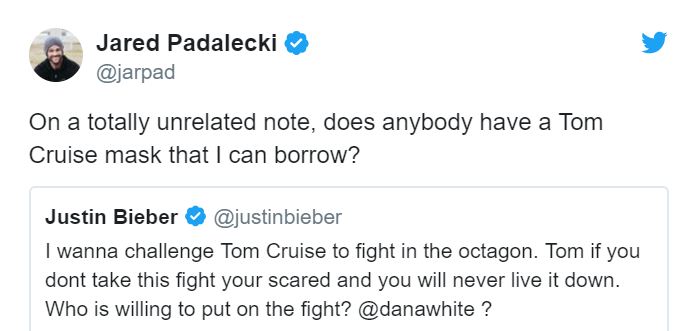 It all started with this:
I wanna challenge Tom Cruise to fight in the octagon. Tom if you dont take this fight your scared and you will never live it down. Who is willing to put on the fight? @danawhite ?

— Justin Bieber (@justinbieber) June 10, 2019
Justin Bieber challenging Tom Cruise to a fight.
It's a hysterical thought, and Justin Bieber later told TMZ he was joking.
"I think he would probably whoop my a– in a fight," said Bieber. "He's got that dad strength."
And now, a lot of people are now demanding he follow through!
Even MMA fighter Conor McGregor chimed in, saying he'll play host!
If Tom Cruise is man enough to accept this challenge,
McGregor Sports and Entertainment will host the bout.
Does Cruise have the sprouts to fight, like he does in the movies?
Stay tuned to find out! https://t.co/TxsH9KUyFg

— Conor McGregor (@TheNotoriousMMA) June 10, 2019
Tom Cruise never replied to the now-viral tweet, however, one fandom superstar, did!
On a totally unrelated note, does anybody have a Tom Cruise mask that I can borrow? https://t.co/0xOde8H3rN

— Jared Padalecki (@jarpad) June 10, 2019
So picture this: a 5'9" and 145 pound Justin Bieber… throwing down with 6'4" and 200+ pound Jared Padalecki.
That would be a fight a lot of Supernatural fans are willing to pay money for.
Padalecki and Bieber have had interactions on Twitter before, like wishing Happy Birthday, among other posts.
Online sports betting sites did not favor Bieber in the Octagon, especially against Cruise, standing at 5' 7 and weighing 170 pounds.
If this isn't enough, Justin Bieber went back to Twitter, sharing a video where Bieber's face is superimposed over characters in a Tom Cruise film, where he ends up fighting in a boxing ring.
Damn Tom this didn't go as planned https://t.co/C2cXfVHZyM

— Justin Bieber (@justinbieber) June 10, 2019
Would you like to see the Biebs fight Tom Cruise or Jared Padalecki? Let us know in the comments!