Product Review: AFK Cosmetics Attack on Titan Eyeshadow
OMG YOU GUYS. ATTACK ON TITAN MAKEUP.
*flails hands*
*Look at all the cute art on the lids! YOU CANNOT RESIST*
As a huge fan of both makeup and anime AFK Cosmetics' Attack on Titan eye shadow line is an otaku's dream come true. Each shade is inspired by an element from the series and is made even more awesome by the custom artwork that accompanies it. AFK's Attack on Titan line is the perfect blend of neutrals and zazzy colors and can work for both day and nighttime looks. Also the colors honestly look like AFk has a magic color drop tool that picks out colors straight from the anime! Each tone even has a nifty title that goes along with the eye shadow. My personal favorite is Suicidal Bastard, a dark brown tone that is inspired by none other than Eren Jaeger himself! All of the tones blend effortlessly which is a major plus as well. I usually use my finger to blend pigments and found that these tones all blended together seamlessly.

*Even Sasha the potato girl gets her own beautiful shade!*
I've created a few looks with each color from the line to demonstrate how bright and deep the pigments are. (Pus I've never felt cooler than I have wearing this makeup)I also always use a primer before applying loose fluffy eye shadow to make sure it stays on for as long as possible. Sadly, I am a SSS-class eye rubber and lose most of my eye makeup by the end of the day. However AFK's eye shadow stuck on my like Mikasa does with Eren! Until I washed it off before I went to bed these eye shadows stayed on just as bright as when I applied them. Now my days start at 9 and end around 2-3 am (damn you Crunchyroll!!!) so I was more than thoroughly impressed with this makeup's longevity              
  Another thing I enjoyed immensely about this product was the fact that the eye shadow is cruelty free and vegan! Even though Attack on Titan is filled with cruelty and violence I love that AFK's makeup is not! Also fear not those of you who are worried about home-made makeup products! AFK's creator Dena was a licensed tattoo artist so she has an extensive knowledge of sterilization and clean work spaces. (ALSO no wonder she has such a great sense of color!!) Having a healthy, safe and cruelty free product is a dream come true. Honestly the only down side to AFK's makeup IS THAT I DON'T HAVE MORE OF IT. If you'd like to learn more about AFK cosmetics and the leading lady Dena who created it read on for an exclusive Geek Lyfe interview! 😀
What made you want to create geek inspired makeup?
– I've been an indie makeup addict since I first discovered Shiro and my jaw hit the floor… There were geeky themed eye shadows?! I had never seen anything like it before and immediately fell into a downward spiral of throwing cash at my computer screen to feed my nerdy makeup addiction. But then one day I was playing the game League of Legends and talking to a fellow gamer/beauty addict and suddenly it hit me… Why hadn't anyone made a LoL eyeshadow collection?! There are literally HUNDREDS of champions and skins to draw inspiration from and I immediately started writing things down and dove into research about formulas and where to buy ingredients. Originally when I started AFK it was just a sort of fun secondary part time job on the side of my job as a tattoo artist, but I have an auto immune disease called Ankylosing Spondilytis that took away my ability to work. But now I get to work from home, take care of my three year old daughter, and do something I love even more than tattooing!
How long does it usually take to create a new pallet?
– This is a tough question to answer. The first step is deciding on a theme, I'll use the Attack on Titan line as an example. I knew exactly what I wanted every color to look like going into color creation so me being a finicky artist that I am took over almost two months designing colors, deciding on them, then going back and re starting because I thought it needed to be darker, have less sparkle, etc lol All in all a collection usually takes around a month because I have to design a color, do product testing, and I create all the label artwork myself as well.
What would your dream collection be inspired by?
– I'm really dreaming of a Mario collection right now! Such beautiful bold colors (that I would be too afraid to wear)
Could I really eat your makeup?
-(Lol) I have vegan bronzer that I can actually eat and it smells amazing! XD – While all the ingredients I use are non toxic, I wouldn't recommend eating them lol
Finally and maybe most important of all… Star Wars or Star Trek?!
-Asking the important questions here! While I have a special place in my heat for Star Trek (due to my older brother and I watching it in between Dragon Ball Z and Gundam Wing every week growing up). I'm much more of a Star Wars girl! I even have a Yoda Quote tattooed on my inner arm that you can see in most of my swatches!
Thank you Dena for the wonderful interview and amazing makeup!
If you'd like to buy some of Dena's makeup you can find it on her Etsy page AFKCosmetics!
Here's the link: AFK Cosmetics
*ADDED BONUS!!!*
For those of you who follow our page and blog I have a special giveaway! The prize is a full sized eye shadow from AFK's limited edition Extra Life charity line!
Here is the beautiful shade up for grabs!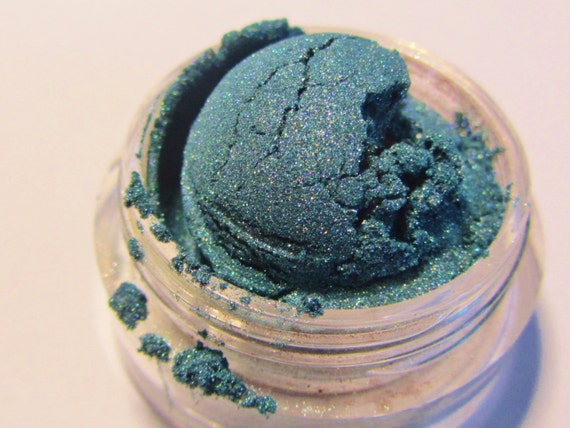 All you have to do is like AFK cosmetics on Facebook and comment who your favorite Attack On Titan character is and the lucky winner will receive this lovely eye shadow and some comics! 😀
I'll pick a winner on Friday!