I'm Speechless: Shia LaBeouf
I loved it. I'm speechless. Shia LaBeouf.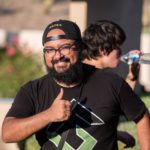 Darth Mexican loves writing, his friends, and all things geeky. While there is so much trouble in the world, Darth aims to bring a bit of joy and good vibes to the table! He owns and operates The Geek Lyfe and is constantly coming up with new ideas that'll help the community!