Joe Manganiello's New Product Line, 'Death Saves', Has Us Throwing Our Wallets at Our Monitors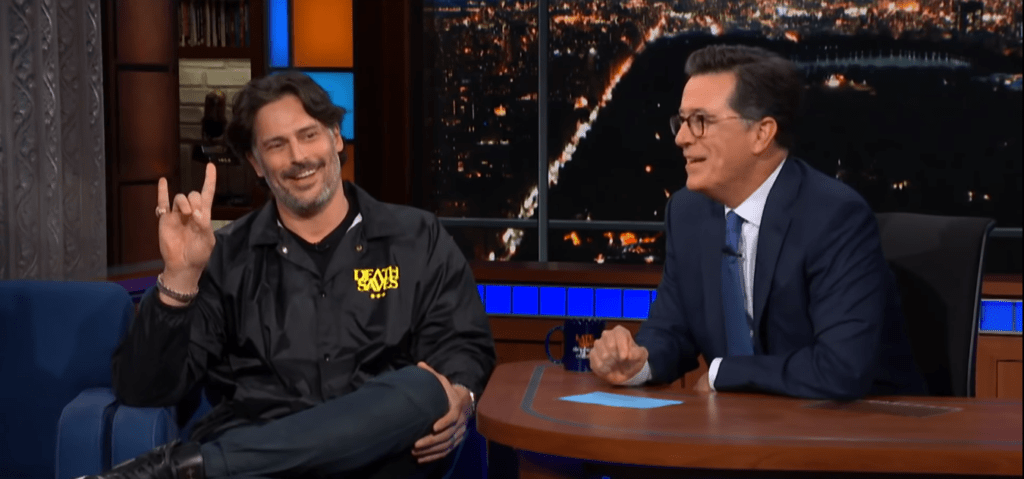 If there is one thing that we love here at The Geek Lyfe, it's Dungeons & Dragons. There is so much charm in gathering together with a group of dear friends and rolling dice to slay fantastic beasts before looting their corpses. Imagine our surprise when we found out celebrity, Joe Manganiello,(known for his roles in True Blood, Justice League, Magic Mike, and more) not only has played Dungeons & Dragons in the past, but loves the game wholeheartedly.
In case you've been failing your Perception Checks, you need to know Joe Manganiello has come out with a product line called Death Saves, which is themed completely around Dungeons & Dragons. Recently, he made an appearance on The Late Show with Stephen Colbert to talk, not only about his love for the game, but also Death Saves.
Death Saves features a number of products from T-Shirts, coach jackets, patches, pins, phone cases, posters and more. Every single item on the store features some aspect of D&D in some way, whether it be the obvious featuring of a multi-eyed Beholder or Death Knight, to aesthetically pleasing logo designs of 'Death Saves' in various heavy metal fonts that bring a sense of nostalgia to veteran gamers. Basically, your wallet rolls with disadvantage, to resist buying their entire stock.
One item in particular that caught my eye was their Death Saves Rules shirt which features their logo on the front; and on the back, it lists the rules for how to actually save your character from death for Dungeons & Dragons 5th edition. It's actually practical and features an even harder rule that was created by Death Saves if your adventuring party loves a good beat down.
We grew up in the 80s

We played Dungeons & Dragons with our friends in dim basements. We battled monsters in our imaginations. We sought out dense game manuals that were as arcane as ancient spellbooks. We pored over savage and brutal fantasy illustrations that set our adolescent brains on fire. We endured book burnings and witch-hunts from a myopic public that deemed role-playing games to be occult and evil.

And we loved it… All of it.

It galvanized us as a group and as a result, we come from a place of the deepest respect for that era and those aesthetics. We are here to channel our vivid nostalgia and lifelong passions for fantasy & sci-fi through the mediums of metal art, illustration, typography, and the subversive culture that grew out of them. We Wish to summon those same emotions we felt when we saw our first Frazetta painting, blue ink module map or the cover of Deities and Demigods. We are dedicated to bearing a blazing torch of homage for the pioneers of the vintage gaming, artwork, and spirit we grew up with while finding new and fresh ways to provoke the imaginations of the next generation of gamers.

WE ARE DEATH SAVES
AND WE HAVE SUCH SIGHTS TO SHOW YOU…
Their passion for table top role playing is so thick and genuine that we are stoked to see what other incredible products Death Saves is going to bring to gamers! Check out more about Death Saves on their website!