Love Nikki Events Are the Future (Pink, Interactive and Great Smelling)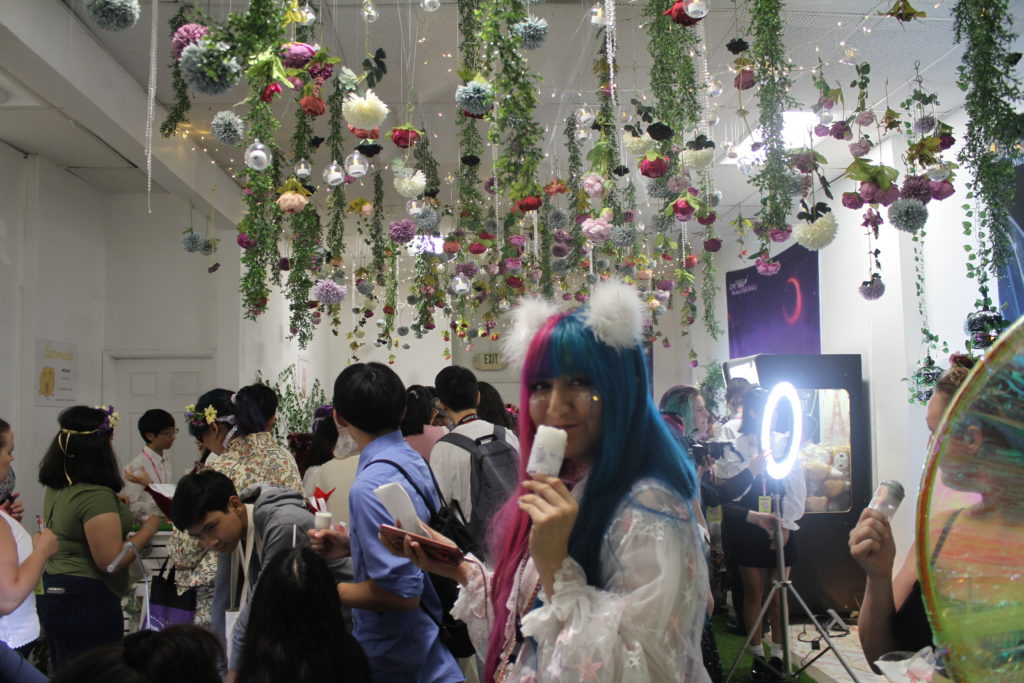 Have you ever heard of the mobile game where a (usually) pink-haired girl has to solve her problems with amazing fashion sense? Have you ever PLAYED that game? If you have, chances are you could be a fan of Love Nikki-Dress Up QUEEN and/or its entire aesthetic. 
The Love Nikki brand has been popping up in and around various conventions for the past year. I first recalled seeing a Love Nikki booth in real life at Crunchyroll Expo 2018 in San Jose. Despite anime conventions/events popping up like dandelions in the past 5-10 years, it can still be hard to find an all pink, all feminine, and extremely fashionable display at these sort of events. That is, until Nikki came along. 
The "Midsummer Night's Dress Up Fans Party" was held in Downtown Los Angeles on July 6th. The event itself was coordinated by the well renowned Tasty Design Studios. Beautiful fans of all ages, genders and styles came together to witness this historic (historic? historic!) gathering. 
The word "perfect" gets thrown around a lot. However, this event came pretty close. It was put on by Tasty Design Studios. Tasty Design Studios has a reputation for both exceptionally planned events, and a unique intimate, personal touch. After seeing countless events they've put on at conventions, festivals and stand alone promotions, everyone's expectations were already high. 
The inside was decorated with tons and tons of flowers hanging from the ceiling, and the venue itself had been adorned with beautiful Love Nikki decorations from all sides. Every time a new attendee walked in, many would audibly gasp with delight. 
Not only was this event a great place for Love Nikki fans from all over to express their love of the mobile app, but it was an amazingly coordinated interactive party experience. 
No one person, (especially no one Love Nikki fan) has just one style, one fashion or one aesthetic. Lucky for all of the attendees, they had tons of outrageously fun and interesting things to choose from. 
Do you like candy? Manicures? Fancy doughnuts? Taking pretty photos? Meeting cool friends? Flower crowns? Cosplayers? Claw machine games? Love Nikki… in general? Yeah. They had ALL that. Don't believe me? Check out our photo gallery.
The coolest thing about the wide variety of activities at the Dress Up Party was it had the perfect mixture of things to join any and every Love Nikki fan together in perfect, adorable, shiny harmony. 
Love Nikki fans were in luck. There were cosplayers dressed up in specific outfits from the mobile app game. You could also win prizes from claw machines, and take photos with official cutouts of characters. 
There was a table dedicated to creating your very own flower crown with other party guests. Despite it hard being NOT to be a fan of flower crowns, few people can boast they actually have made one. Fans all sat together at a table and created the beautifully smelling head wear together with the help of flower crafting professionals. 
Guests also had the option of getting a specialized Love Nikki manicure together. Fashionistas, dress up queens or just people who like pretty fingernails were able to get custom Love Nikki art added to their nails. 
There was also walls and walls full of sugary sweets. Individualized bags of candy and endless plates of confectionery fed dozens and dozens of hungry attendees. There was even an ice cream stand. 
The entire venue was a beautiful, perfectly coordinated wonderland. Guests spend tons of time taking photos anywhere they could, as well as socializing with other attendees. 
It's important to note however, how sought after an event like this is. There's been a demand, and quite frankly a need for party like this. It's never been a secret that fashion and glamour are a sought after form of fun in the anime event industry. It's more confusing that companies HAVEN'T given video game/anime fans their own feminine, pink events yet. The "Midsummer's Night Dress Up Party" is if anything, a trailblazer for the future.
Many times, exclusively feminine events can be unheard of. There can be assumptions that because a venue caters to things like frills, glitter and flowers, it might not be as popular as a more minimalist event. That was absolutely not the case with this amazing dress up party. Tasty Design Studios completely outdid themselves. 
It was spectacular to see dozens and dozens of different types of people walk in and out, in addition to the large line I saw before entering. This type of party was so well received by so many guests. (I can even attest that their significant others were having a good time.)  
After seeing how unifying an interactive event like this one is, I hope that events like these continue. The Midsummer's Night Dress Up Party definitely set a standard, and hopefully a trend for the types of events we want in the future.