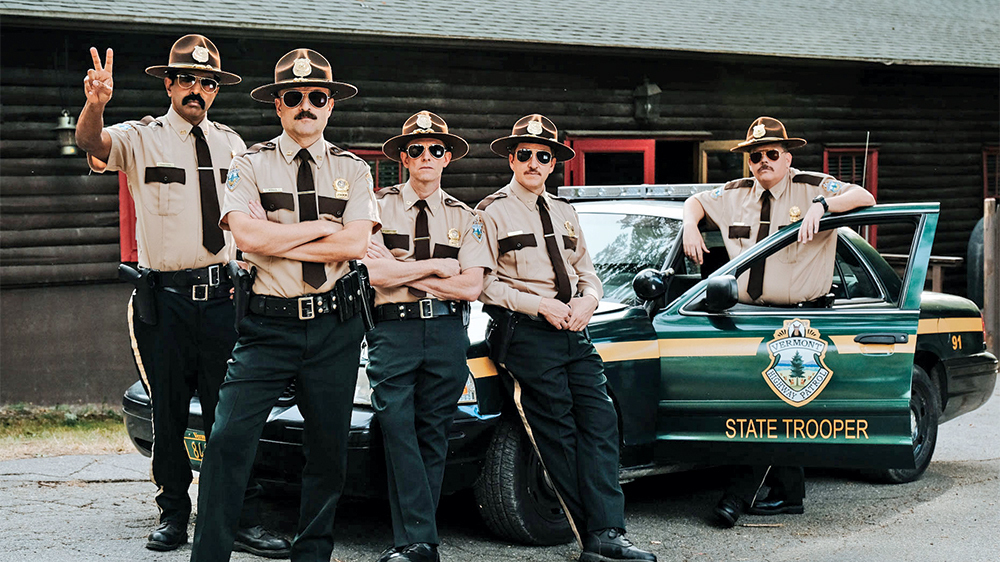 In 2001 Super Troopers hit the big screen and split the sides of many adults and teens alike. The crude humor produced by the adventures of Highway Patrolmen were just too classic! "Five Vermont state troopers, avid pranksters with a knack for screwing up, try to save their jobs and out-do the local police department by solving a crime."
Little did we know that after 17 years the fine folks at Broken Lizard would come out with Super Troopers 2 and continue their adventures! When a small Canadian town may get converted into joining America, the ol gang gets back together to help protect and serve! The only issue is that the residents don't take too kindly to the news and make an effort to resist the change as best they can. Meanwhile the crew stumbles upon various illegal goods and tries to find the supply to stop them!
Not mention the appearance of Will Sasso! Although I love Kevin Heffernan, Paul Soter, Jay Chandrasekhar, and the rest of the Broken Lizard crew, but Sasso just brought the film to another level despite being a side character!
You know, all while embarking on various shenanigans with the townspeople and taking drugs. All in all Super Troopers 2 delivers on their promise of as good, if not better jokes from start to finish and even post credits! If you are a fan of Broken Lizard films or crude humor in general, you'll enjoy this film. However if you are not a fan of either, this may not be your cup of tea.