The Woman Behind the Voice: Yuriko Yamaguchi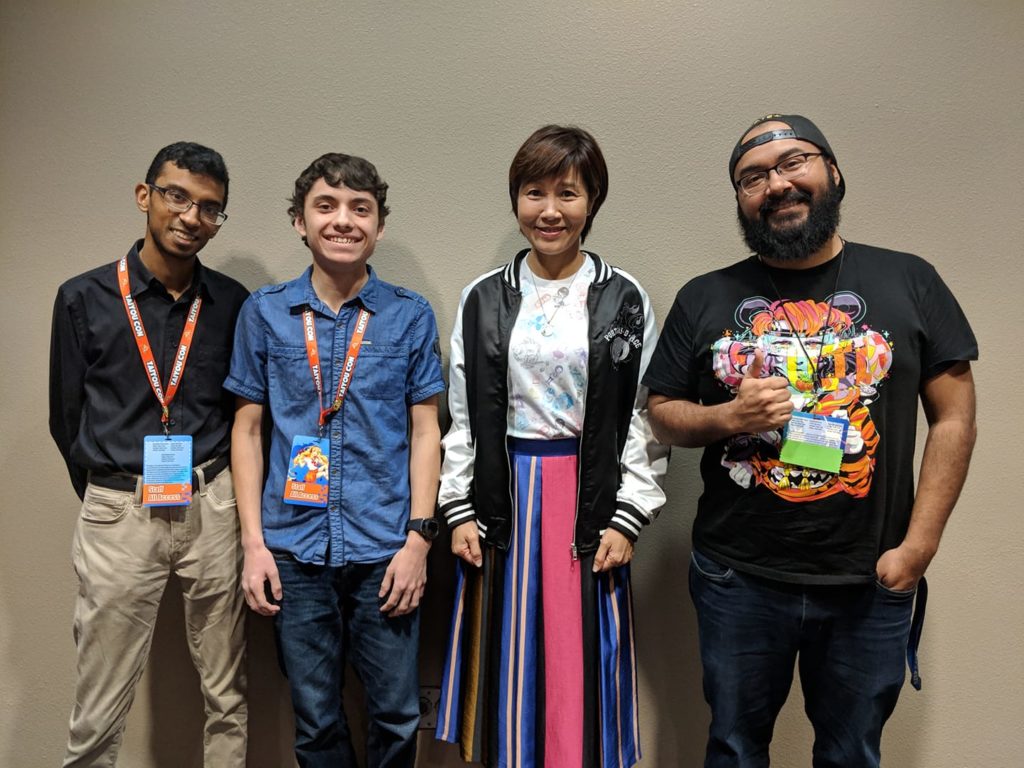 As a red blooded, hard working, subbed Anime watching geek, I take pride in the fact that I have seen my fair share of Anime series in my time. Little did I know that one day I would be sitting across the table from the voice of one of my all time favorite characters, and then come to find out she also did the voice for various other iconic characters. I waited in a conference room by myself for a good while trying my best to calm my nerves in anticipation of meeting Yuriko Yamaguchi at Taiyou Con 2019.
When she entered the room she was accompanied by three staff members, all of which spoke Japanese and were there to ensure the interview went as planned. This only added to my anxiety but somehow when I looked at Yuriko, I felt at ease. She had a genuine smile, she was easy to laugh, and was welcoming despite my obvious nervousness. It blew my mind that this woman was the actress that voiced so many beloved characters, moving me to tears, causing me to laugh, and even instilling in me life lessons.
I straight cried while watching the above scene from One Piece. Robin is my favorite character and this interview meant so much to me!
The Geek Lyfe: How do you deal with the heartbreak of not landing certain auditions despite putting forth your best effort?
Yuriko Yamaguchi: In Japan there are a lot of voice actor auditions for anime. If I do not get a role, it does not really affect me because it must not have fit me personally. If I were to have somehow forced myself into that role, it would have only been a bad situation. I don't think I can do every single performance, so it is much better to let opportunities come as they may.
TGL: What was one role that was so near and dear to your heart but wasn't so well received with fans?
Yuriko: One of the roles that I had was for a very old anime series and it was for the role of a cat. Essentially, the cat acted like a housewife to the owner and it was hilarious!
TGL: What was, in your opinion, your most well known performance?
Yuriko: It would absolutely have to be One Piece as Robin.
TGL: Out of all of the roles you have ever done, over all of these years, which was your favorite?
Yuriko: My favorite would have to be Neon Genesis Evangelion. If I had never landed this role, I would have never continued in voice acting. It gave me everything and I can't help but feel grateful for it!
TGL: Many times when it comes to artists they encounter creative blocks. How do you handle these situations?
Yuriko: I don't ever really get blocks. I do my best to practice and improve my craft which I feel helps me avoid issues.
TGL: What advice do you have for aspiring voice actors?
Yuriko: When I was first starting out, I thought that that I had to match the mouth movements of the characters on the animation and that caused me to struggle in my performance a bit. But then I realized that the artists re-draw the mouth movements based upon my performance which then helped me tremendously!
TGL: What was the hardest performance you ever had to give?
Yuriko: Robin from One Piece. I believe no matter the role, I feel like I am always growing. But through my experience of One Piece I not only grow but the team grows as a whole. It is very special in this aspect because we are all creating something together that we love. It just means the world to be able to do this with them.
We can not even begin to express just how fantastic it was to not only get to meet Yuriko Yamaguchi, but also to have interviewed her! She was so sweet, kind, and held so much wisdom! This experience made me even further appreciate the hard work that goes into voice acting! Do you have any questions you'd like to ask your favorite voice actor? Let us know in the comments!
If you enjoyed what you just read and want to support The Geek Lyfe, please share our content! If you'd like to go above and beyond, check out our article on all the ways you can help us grow, like Patreon!